Hello Happy Marketers 🐮

This month we're talking about creating ads that STAND OUT, shifting to an omnichannel marketing strategy, and why there's reason to be optimistic even in these trying economic times.

Oh, and TikTok. There's a lot about TikTok.

Let's get into it!


Want to get into your customer's brain? 🧠
Okay, dumb question. OF COURSE you do.
But the trouble is, ad real estate is getting BUSY. Don't believe me? The average American sees
4,000 to 10,000
advertisements EVERY SINGLE DAY.
Now, be honest, from all the ads you saw yesterday, how many of them can you remember? Probably 1 or 2 at the most. You see, it's not enough to create an ad, you've got to
create an earworm.
And the best way to do so?
Get creative.
We know it's cliché but the winners always seem to be those wild cards, those ideas you scrapped, or those ideas your ad manager pitched to you but you wrote off / changed beyond recognition (you know who you are lol).
So long as your wild-card ads are not controversial / political / dangerous — please
don't turn yourself into a meme
— then what do you have to lose? And if all else fails, try
these mind games
.

FYI, if you're getting comments like this you've gone too far.
Too Lazy for Marketing? AUTOMATE IT!
Anyone else feeling really tired this month? I mean seriously, some days staying awake at my desk is hard… But the good news is that even when I'm catching my zzzs, I can still get some work done.
We're living in the time of automation and oh, what a time it is. 
This summer we've been working hard behind the scenes getting
our automation strategy
just right. That hard work is paying off. I can lie in bed for longer and still see the results. Now that's a win.
What happens when you're creative, but you're not feeling very… uhm,
creative
? We get it, even the most passionate social media marketers need 'a creative jumpstart' sometimes.
So, the next time you're starting down a blank social media content calendar, here are
5 excellent ways to get the juices flowing
.
Q: What do
The Beatles
,
The San Diego Zoo
, and
Red Bull
have in common?
A: They're all
killing it on TikTok
!
TikTok is the wild west of social media and you cannot convince me otherwise. From cute animals to kind of cringe dance moves, greenwashing to bringing back dead pop stars, literally anything goes.
It's a confusing place, but it's becoming increasingly important for marketers to bite the bullet and get a TikTok strategy nailed. If this is all new and you've been putting it off,
here's a great guide to begin
.
Hey, if it's good enough for the Beatles, it's good enough for me.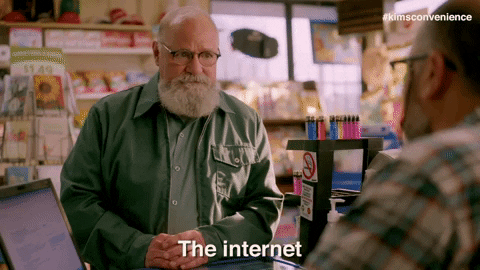 How marketers over the age of 30 sound talking about TikTok… or is it just me?!
Another TikTok Section? You're Spoiling Us
Turns out there's more to say about TikTok this month as it's been making headlines across the pond in the EU for its
change in user privacy settings. 
"Well," I hear you say, "that's not too exciting". Yeah, you're right. The EU is well known for its stringent laws on data protection and making social media companies jump through hoops to get to their audience — nothing too newsworthy.
BUT this could be big. TikTok's success lies in its undeniable addictiveness, a lot of which is down to the algorithm. Without access to personal data to build the FYP, could TikTok's
short-form stranglehold
be nearing its end? Only time will tell.
THREE Sections on TikTok? In a Row? Seriously, Please Stop
LAST thing, I promise! But this is good news. TikTok has announced three new features that I personally have been waiting for ALL MY LIFE.
📲 Firstly, they're adding an 'edit post' feature THANK YOU SOCIAL MEDIA GODS. I'm not sure why the edit / delete button is always left out of social media functionalities (here's looking at you,
Threads
) but typos are never cool.
📲 Secondly, welcome to the world,
infinite, all-consuming
auto-scroll. Here to capture more of your waking seconds, prepare to see your screen time increase and your reach boom.
📲 Thirdly, TikTok is updating their 'Save' functionality to remove that annoying watermark. Cause for celebration 'cause now we can easily re-use content without it being too obvious and without having to rely on tedious 'hacks' 🥳🥳
See — I told you there was good news!
We're All Going Omnichannel
The hottest word of the fall?
Omnichannel
marketing.
We are hearing it everywhere — it seems marketers and your audience might be tired of digital ads. And remember, it was right here in
May's Happy Marketing
that I claimed 'billboards are having a moment.' I wasn't wrong.
Omnichannel marketing
is about providing a unified, cohesive, and comprehensive customer experience across all channels. It's about getting your brand in front of the right people all the time, and it's about finding creative ways to engage.
Omni has a space for paid ads, but there's also space for wild YouTube experiments,
innovative billboard creations
, and
organic influencer relationships
. That's what makes it so exciting and why so many of the CMOs who responded to my recent LI poll agree.
Let's keep the conversation going.
Email us
and let me know if you're thinking / shifting to omnichannel. What problems are you facing, and what successes have you seen?
Two Engagement Strategies to Implement NOW
Put these on your to-do list,
por favor
. 
Refresh that tired SMS marketing campaign
Too many brands are sending me the same old SMS and it is ANNOYING. Yes, SMS marketing when done well
can get great results
, but
is your brand doing it well
? That's the question.
Remember: "People do want text messages from brands—when it makes sense, when it adds convenience, and when it comes with something they want." 
This month, put in the work to objectively revisit your SMS campaigns and put them right.
Revamp that boring 'we miss you' email automation 🥱
You know the one – that email you automated back in 2020 and then forgot about. That one that could be generating revenue on autopilot, but instead languishes unread in your customers' inboxes.
Use this as inspo
.
Is Your Website in Order?
I know you're going to say yes to that question, but hear me out. 
Every month I write about websites and getting the basics right, yet
every month
I see websites making the same mistakes. Listen carefully.
Your website is the most important part of your online marketing presence.
Now read that again.
Whether you're investing in
organic traffic
or burning through your ad budget, your website is probably the place you're springing leaks. Get. It. Fixed.
Not sure where to start getting your website in order?
Boy, do I have a blog for you
.
  And remember, if you need help with this, it's 100% worth your while to invest. Hit reply and I'll show you what your site needs IMO and what to prioritize. You'll start getting better results in just a few weeks.
✨ A Sprinkle of Market Optimism ✨
As we round it up, let's just have a moment to reflect, hey.

We're still here. We're still podding on. We overcame a pandemic, some pretty eye-raising political scenes, and we're surviving a global recession. We're doing pretty well.

But not only did we survive the last mind-bogglingly crazy years, there's also some reasons for cautious optimism about the general state of marketing. In a Pipedrive campaign, 80% of marketing professionals were optimistic about the future, and still 63% of businesses report growth.

There's a lot of scary news stories out there, but let's take stock – the industry as a whole is in a great place. Now is the time to invest in marketing, and (as always) the work we do now is gonna pay off in a few month's time.

We're marketers, and we're resilient.
Back to Dreaming of Vacations THE GRIND 💸
The quiet summer months are officially over, it's time to get back to the grind and stop dreaming of that vacation.
You hear me?!
But you know what? This year it's a joy to get back behind my desk. August is shaping up to be one of the biggest months ever at Nouvel Âge Media and you know why? Because we've been doubling down HARD on outreach and now we have a roster of clients that are
dominating
the ad game.
Paid ads, emails, content — they don't work overnight. If your business is serious about having a Q4 to remember, the building work starts now.
Great news, though, I've got some time in my calendar next month for free ad audits and I'd love to offer you one,
email me
and I'll book you in.
And with that, it's another Happy Marketing done and dusted. See you in the fall. 🎃
Natalie
CEO & Founder,
Nouvel Âge Media